From VOA Learning English, this is the Health & Lifestyle report.
If you are like millions of people around the world, the New Year brings with it new goals.
Perhaps you want to save money, lose weight or learn a new skill. You tell yourself, "This is the year I'm going to … (fill in the blank.")
But then you get busy.
Your daily life -- as wonderful as it can be -- takes up all of your time. Before you know it, weeks, then months have gone by, and you are no closer to your goal.
Time, as they say, waits for no one.
Yet your goal remains important. And achieving a goal, no matter how small, feels good. In addition, when we do not work on our goals, we may end up feeling guilty or not successful.
So, how can we find time to work on these larger life goals?
Well, many websites address this issue, and they offer some of the same advice: If you want to achieve something, clearly identify it and write it down.
Identify specific goals
As you identify your goals, be specific. If a goal is too general, it may be hard to pursue let alone achieve it.
Let's say your goal is to get in better physical shape. That's a fine idea -- but psychologists might say as a goal, it is too general.
To make the goal more specific, you could sign up for a regular exercise class. So, whether you are dancing, doing yoga or kickboxing, you have a regular commitment every week. You could also say your goal is to lose a certain amount of weight in a certain amount of time.
Write your goals down
Experts say writing down your goal is a very important step. It gets the goal out of your brain and into the real world.
Some psychologists suggest that writing a goal on paper is better than typing it on a device or saying it into your phone. Your brain receives information differently when it comes from handwriting. Writing things down seems to say to the brain, "I am important! Remember me!"
Writing has another benefit: You can post your goal somewhere as a reminder. As you sit down at your computer or pour your morning coffee, your goal stares you in the face and asks, "What are you going to do about me today?"
Tell a friend
Telling someone your goal is also helpful.
If someone else knows about your goals, you are held accountable for any progress or lack of progress. Your friend might ask, "So, how many pages of your novel have you written?" If you keep saying "none," you might feel badly.
Now you feel a pressure to do it -- the pressure of your friend's opinion of you. And that can be a big pressure! Many people do not want to let others down, especially friends and family.
Break down BIG goals into small ones
Not all goals are created equal. Some can be quite big. And for those bigger goals, experts suggest breaking them down into smaller ones.
So, let's say you want to work for yourself. You love cooking. So, you decide to start your own company that supplies food for special events. Now, that is a very big goal. But it is made up of many smaller goals. So, identify them, write them down and set for yourself time limits.
These suggestions all help to make your goals real. If you simply think about your goals, they can easily get lost in your brain – which, after all, has a lot to do in a day.
Other experts remind us of another detail as we set our goals for the New Year: The goals may change. Or your life situation may change. Or you may change. So, it is a good idea to check in with yourself. Is this goal still what you want? Is your approach still working? If things are not proceeding forward, perhaps you need to change something.
One expert, Ryder Carroll, helps people organize their life's goals by using a simple notebook. He suggests thinking about your goals not as a final destination, but rather as lighthouses guiding you along.
It is the pursuit of your goals -- not the reaching of them -- that makes up the weeks, days and hours of our lives. So make sure to have fun along the way!
And that's the Health & Lifestyle report. I'm Anna Matteo.
And I'm Bryan Lynn.
Here is your chance to try one of the methods mentioned here. In the Comments Section, share one of your goals for 2019 with the world! Use the goal-making language you heard here.
Anna Matteo wrote this story for VOA Learning English. Kelly Jean Kelly was the editor.
_________________________________________________________________
Quiz - Ways to Achieve Your Goals
Start the Quiz to find out
__________________________________________________________________
Words in This Story
blank – n. an empty space (as on a paper)
general – adj. relating to the main or major parts of something rather than the details : not specific
specific – adj. clearly and exactly presented or stated : precise or exact
accountable – adj. required to explain actions or decisions to someone
let others down – phrasal verb disappoint others : fail to deliver a promise
destination – n. a place to which a person is going or something is being sent
check in with yourself – phrasal verb a type of self-examination
pursuit – n. the act of chasing, following, or trying to obtain
.......................................................
A look at the best news photos from around the world.
1
Firefighters pull a body from the mud days after a dam collapse in Brumadinho, Brazil. Firefighters carefully moved over dangerous mud in search of survivors or bodies.
2
A person does "Mallakhamb" (traditional Indian gymnastics) during a practice session in Ahmedabad, India.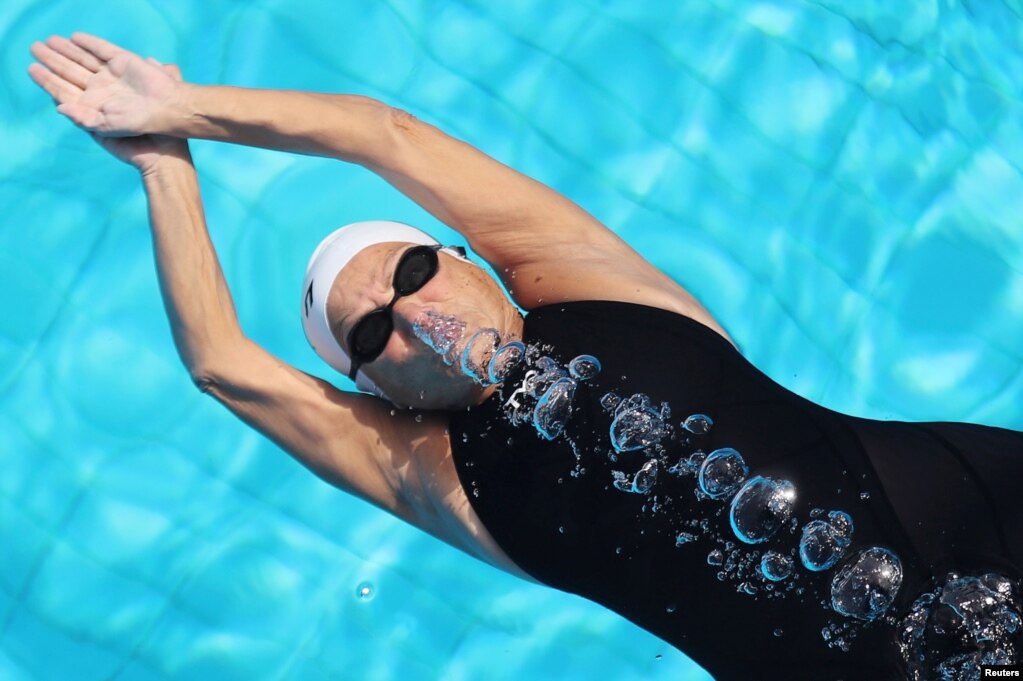 3
Egyptian swimmer Nagwa Ghorab, 76, swims underwater during her training session in Cairo, January 27, 2018.
4
A member of a rescue team reacts after searching for survivors of the collapse of a dam owned by Brazilian mining company Vale SA, in Brumadinho, Jan. 27, 2019.
......................................................
Teaching Social and Emotional Skills Through Art
In this November 2013 image provided by Marygrace Berberian, students share art work from school-based art therapy workshops at "Standing Tall," a public exhibit at New York University.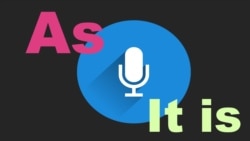 Teaching children social and emotional skills is getting new attention in the world of education. Some experts say doing arts and crafts at home and at school can help build those abilities.
Marygrace Berberian is an art therapist and social worker who teaches at New York University. She says that because the creative process requires invention and trial-and-error, children can learn to manage frustration through art.
She says the creative process can also teach children to connect to the more emotional parts of themselves.
Calls for social and emotional skills are coming from many areas, says Jacqueline Jodl. She directs the Aspen Institute's National Commission on Social, Emotional, and Academic Development.
"Families and parents are requesting help with social and emotional learning," she says. "Teachers also are really starting to express demand for it."
Jodl says the business community also continues to ask for students with a wider mix of skills than those traditionally taught at schools.
In addition, an increasing number of young people are facing emotional challenges, says Melissa Schlinger. She is a vice president of the Collaborative for Academic, Social, and Emotional Learning, or CASEL, which is based in Chicago. CASEL does research, policy and guidance work on social and emotional learning in schools.
Schlinger says, "Anxiety and depression are on the rise for young people."
How to use art to help
Experts suggest four ways to more purposefully combine social and emotional learning with children's art projects at home, school or anywhere.
1 - Think about the needs of the child when choosing materials.
Art therapist Marygrace Berberian notes that a child seeking control might gain something from beading or pencil drawing, for example. But a child who needs more freedom might learn more from working with paints or clay.
2 - Give kids control over their projects.
For example, Chicago-based arts organization Marwen gave a printmaking class in which students created small prints on what was important to them. Christian Ortiz supervises the art programs at Marwen. He suggested giving students the freedom to "interpret a project" through their own experience and viewpoints.
Marygrace Berberian advises parents not to control how a child does an art project at home. Instead, she suggests, ask kids about their creations and the decisions they made and why.
3 - Create a lesson along with the project.
Melissa Mellor, who is with the Aspen Institute, remembers her young son doing an art project about learning from mistakes. The class read a book about a girl who turned a mistake into something beautiful. Then, each student received a piece of paper with marks already on it. Their job was to use a drawing tool to turn it into a piece of art. The project aimed to teach flexibility, problem solving, creativity and the ability to grow from mistakes.
And 4 - Make art together.
Marygrace Berberian says when people work together in the creative process, they are "mirroring each other and celebrating each other's artistic practice." In other words, it naturally builds understanding between them.
I'm Alice Bryant.
Molly Sprayregen wrote this story for the Associated Press. Alice Bryant adapted it for Learning English. Kelly Jean Kelly was the editor.
______________________________________________________________
Words in This Story
craft – n. an activity that involves making something in a skillful way by using your hands
frustration – n. a feeling of anger or annoyance caused by being unable to do something
anxiety – n. fear or nervousness about what might happen
beading – n. the craft or pastime of stringing beads together to make jewelry or other decorative items
pencil drawing – n. a picture that is made by making lines on a surface with a pencil
clay – n. a heavy, sticky material from the earth that is made into different shapes and that becomes hard when baked or dried
printmaking – n. the activity or occupation of making pictures or designs by printing them from prepared plates or blocks
interpret – v. to understand something in a specified way
flexibility – n. willing to change or to try different things
mirroring – n. the act of being very similar to something
...............................................
The English We Speak
INTERMEDIATE LEVEL
From pillar to post
EPISODE 190128 / 28 JAN 2019
Summary
The office is being refurbished and things are a bit chaotic. Rob doesn't know where he should be but luckily his confusion provides a great opportunity to learn a new authentic English phrase and Feifei is on hand with a few wise words.
Transcript
Feifei
Hello and welcome to The English We Speak. I'm Feifei but where is Rob?
Rob
Sorry, Feifei. I didn't know we were in this studio today.
Feifei
Yes. Studio 62D. It says it on this plan.
Rob
Really? The studios and offices are being refurbished and everything seems a bit chaotic.
Feifei
As long as we follow the plan we will be OK. Calm down, Rob. Are things really that bad?
Rob
Yes! First I sat at my desk and was told to move to another one. And then I sat at another desk, I was told the boss was sitting there…
Feifei
…so you had to move on.
Rob
Well, of course! And then when I went to the studio, somebody was in there, reading the news! So I was told to find another studio…
Feifei
Yes, yes, I get it, Rob. You could say you were moved from pillar to post.
Rob
Exactly. You mean, going from one place to another in a disorganised and chaotic way?
Feifei
I do. Let's hear some examples of this phrase in action…
Examples
We got moved from pillar to post on our tour so we started to complain – it's not what was promised in the holiday brochure!
As a child, both my parents worked, so I got dragged from pillar to post trying to find someone to look after me.
I was passed from pillar to post when I phoned the bank to try and pay my credit card bill.
Feifei
This is The English We Speak from BBC Learning English and I'm with Rob, who's been moved from pillar to post. That means moving from one place to another in a disorganised and chaotic way. But, Rob, things don't have to be chaotic.
Rob
Why's that?
Feifei
If you just follow the temporary plan. It tells you where to sit and which studio to use.
Rob
OK. Let's have a look. Right – so we're meant to be in this studio – 62D.
Feifei
Yes! And where is your desk?
Rob
Err, oh no, my desk is right behind a pillar! Nobody will be able to see me now. I'll have nobody to talk to.
Feifei
Oh, I think this office refurbishment is going to be really good!

Rob
Thanks. Are we at the end of the programme now?
Feifei
Yes. Bye.
Rob
Bye bye.
Latest The English We Speak
EPISODE 190121 / 21 JAN 2019

Informal chat

EPISODE 190114 / 14 JAN 2019

Is this a clever phrase?
............................................
File photo: // EPA-EFE PHOTO
Article 44 to allow suspension of cannabis patents
national January 29, 2019 01:00
By THE NATION
PRIME MINISTER Prayut Chan-o-cha yesterday intervened amid growing controversy over patents for medical marijuana, using his special powers to authorise suspension of patent applications under review.
Critics of the process have complained that the high number of patent applications from abroad showed that foreign pharmaceutical corporations were seeking to monopolise Thailand's fledgling medical-marijuana business.
Thailand is the first Asian country to give the green light for legalising medical marijuana, joining a global market projected to be worth $62.9 billion (Bt1.98 trillion) by 2024, according to Zion market research.
Prayut yesterday issued a special order under Article 44 of the charter to empower the Intellectual Property Rights Department (IPD) to suspend applications for medicinal marijuana patents now under review. The agency currently has seven pending applications.
..............................................