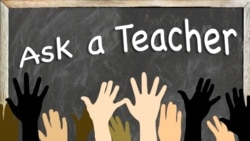 EMBED
SHARE
The code has been copied to your clipboard.
This week, we received a question from Agnaldo, a teacher in Brazil. He asks,
Question:
I've seen recently that we shouldn't call a teacher "Teacher." We should call him or her by their name. Is that true? Why? Is it the same for professors? -- Agnaldo, Brazil.
Answer:
Dear Agnaldo,
This is a great question. I have taught in many countries where the common practice is for students to call me Teacher. It always sounded a little strange to me. Most Americans do not use Teacher to address a teacher in English. Sometimes Americans do use titles this way, however. For example, they might address a medical doctor as simply Doctor, a religious leader as Reverend or a judge, as Your Honor.
What should I call my teacher?
So, how should students address their teacher?
Most American teachers of children are addressed using the honorifics Miss, Mizz, Missus or Mister, with their family or last name. The last three are shortened in writing to Ms., Mrs. and Mr. The honorific Miss does not have a shortened version.
At the beginning of a school term, a teacher should tell students how to address her or him.
Suppose the teacher's name is Elissa Brown. She most likely will tell her students to call her Ms. Brown.
For men, Mr. is used.
The honorifics Miss and Mrs. identify if a woman is unmarried or married. These terms are less common in the modern world as they provide unnecessary, personal information. There is no English honorific that communicates if a man is married or single.
Colleges and universities
You also asked about professors. Generally, they also choose how they want to be addressed. It is not unusual for a professor to be addressed as Professor, however, especially in the learning setting. Here is an example sentence:
Professor, what is the difference between Mr. and Ms.?
Most university professors in America hold doctoral degrees and many of them use the title of Doctor.
Why not say "teacher?"
The second part of your question was about why "Teacher" is not a good name to call your teacher. In many cultures, using the word "Teacher" shows great respect. But for many American teachers, including me, "Teacher" is an impersonal term.
The good news is teachers of English as a second language expect cultural differences between themselves and their students. We understand our students are trying to show respect when they address us.
That's Ask a Teacher for this week.
Your questions
What questions do you have about English? Send us an email at [email protected].
I'm Jill Robbins.
Dr. Jill Robbins wrote this story for Learning English. Caty Weaver was the editor.
________________________________________________________________
Words in This Story
practice – n. something that is done often or regularly
address – v. to use a specified name or title when speaking or writing to (someone)
honorific – n. word that is in a class of grammatical forms used in speaking to or about a social superior
impersonal – adj. having or showing no interest in individual people or their feelings : lacking emotional warmth
Do you have a question for the teacher? We want to hear from you. Write to us in the Comments Section or send us an email at [email protected].
.................................................................
6 Minute English
INTERMEDIATE LEVEL
Hello, hello
EPISODE 180301 / 01 MAR 2018
It's usually the first word you say to people, but the word 'hello' has an unusual history. And just why are greetings so important? Join Rob and Catherine in 6 Minute English as they explore the world of greetings, and say 'hello' to some useful vocabulary!
This week's question:
When did 'hello' first appear in print?
a) 1890s
b) 1950s
c) 1820s
Listen to the programme to find out the answer.
Vocabulary

minefield
subject full of hidden problems
air-kiss
a kiss which does not touch the face, but goes very close
bond
connection
ritual
pattern of behaviour in a certain context
to get in a muddle
to become confused
to hail
to greet someone loudly from a distance
Transcript
Note: This is not a word for word transcript
Catherine
Hello. I'm Catherine.
Rob
Hello. I'm Rob.
Catherine
We both started with what is probably the best-known greeting in English and one of the first words English language students learn, and that is 'hello'! So today in 6 Minute English we're digging a little deeper into the world of greetings and the fascinating history of 'hello'.
Rob
Surprisingly, the word 'hello' is not as old as you might think. But when did it first appear in print in English?
Was it:
a) in the 1890s
b) the 1950s or
c) the1820s
Catherine
Well, I think English changes really quickly, so I'm going to say b) the 1950s. And we'll say 'hello again' to 'hello' a little later in the programme.
Rob
First, greetings. They can be a bit of a minefield. A subject full of unpredictable difficulties.
Catherine
While in many places a handshake or bow is normal – there's also the tricky question of kisses and hugs.
Rob
Awkward. Should you kiss? How many times? And should your lips touch their cheek?
Catherine
No, Rob - definitely an air-kiss! Close to the cheek, but don't touch. Much safer.
Rob
Greetings are the subject of a new book, by former British diplomat Andy Scott, called One Kiss or Two: In Search of the Perfect Greeting. Here he is on a BBC radio show Word of Mouth. Why are greetings so important?
Andy Scott, author
These are the first moments of interaction we have with people. And it's in those first moments, and using those verbal and physical rituals that we have and we can get in such a muddle about, that we're kind of recognising each other and reaffirming our bonds or even testing our bonds and our relationships with each other, we're signalling our intentions towards each other, despite the fact we might not necessarily be conscious when we're doing them.
Catherine
Scott says we need to communicate our intentions to each other and acknowledge our relationships.
Rob
Well, that's what greetings do. One word he uses to mean 'relationship' or 'connection' is bond. We can reaffirm our bonds, which means we confirm them and make them stronger.
Catherine
And we do it through rituals -patterns of behaviour that we do for a particular purpose. So there are the phrases such as 'hello', 'good afternoon', 'nice to meet you', and as well as the physical rituals – handshakes, bows and kisses.
Rob
Though he also said we sometimes want to test our bonds. We might want to check if our friendship has grown by offering something warmer than usual – like a hug instead of a handshake.
Now, Scott acknowledges how difficult greetings can be – using the very British slang phrase – to get in a muddle. If you get in a muddle, you become confused or lost. You might get in a muddle if one person expects two kisses and the other expects only one.
Catherine
Though Scott does believe that the details don't really matter, because another important purpose of greetings is to reduce tension. So if you get it wrong, just laugh about it.
Rob
OK, let's get back to the one word we really shouldn't get in a muddle about, 'hello'.
Catherine
Let's listen to Dr Laura Wright, a linguist from Cambridge University, also speaking on the BBC Word of Mouth radio programme. Where does 'hello' come from?
Dr Laura Wright, Linguist and BBC presenter
It starts as a distant hailing: "I see you miles over there and I've got to yell at you." It's not until the invention of telephones we really get to use hello as a greeting to each other, and even then it wasn't initially used as a greeting, it was used more as an attention-grabbing device: "You are miles away, the line is about to be cut, I need to attract the attention of the operator as well." And so everybody would call 'hello' to each other as this long-distance greeting form.
Catherine
Laura says 'hello' hasn't always meant 'hello' – originally it was just a shout to attract someone's attention. And we call this kind of shouting hailing.
Rob
The shout would vary in form – it could sound like a 'hollo'! Or a 'hulloa'!
Catherine
We continued this kind of hailing when telephones first appeared. People would keep repeating 'hello, hello' while they were waiting to be connected. And before long, this became the actual way to greet somebody on the telephone. Anyway, before we say 'goodbye' to 'hello' – let's have the answer to today's question.
Rob
I asked when the word first appeared in print in English. According to the Oxford English Dictionary, it was in 1826. Other spellings appeared before that.
Catherine
Ah, you see – I was thinking English changes really quickly, but not that quickly.
Rob
Not that quickly.
Catherine
So before we go, let's have a look at today's vocabulary again. A minefield is something that is full of uncertainty and even danger. This sense comes from the literal meaning – a field full of explosive landmines!
Rob
And then we had air-kiss – which is when you kiss the air beside someone's face, instead of the face itself! Like this: mwah.
Catherine
And we had bond – a connection. There's a close bond between us I think, Rob.
Rob
Which is good, because when I get in a muddle, you're always very understanding!
Catherine
Yeah.
Rob
To get in a muddle means to become confused.
Catherine
Ritual was another word – rituals are certain behaviours that people perform in certain contexts. I have a morning ritual, for example: brush my teeth, eat breakfast… I didn't say it was an interesting ritual, Rob!
Rob
No, that's true. Finally, to hail – it's to greet someone loudly, especially from a distance. I hailed my friend when I saw her at the airport.
Catherine
And that's it for this programme. For more, find us on Facebook, Twitter, Instagram and YouTube, and of course our website! Bye!
Rob
Bye!
...................................................
Prayut shifts to 'new normal' economic management
Jul 10. 2020
Prime Minister Prayut Chan-o-cha on Friday meets with his economic advisers, business leaders and some ministers to discuss extra measures to support small businesses and people adversely affected by the Covid-19 pandemic.
By The Nation
Prime Minister Prayut Chan-o-cha has changed the way he manages the economy by increasing collaboration with his economic advisers and business leaders.
Prayut postponed today's meeting of the Council of Economic Ministers and instead held a meeting with his advisers, economic ministers and business leaders to discuss remedial and recovery plans after the Covid-19 outbreak.
Deputy Prime Minister Somkid Jatusripitak, who leads the Cabinet economics team, also attended today's meeting.
Somkid downplayed the postponement of the economic ministers meeting, saying that economic management would run smoothly as he knows both the PM's advisers and business leaders very well.
"It is better for the PM to have all the information, including from outsiders, before making a decision on economic measures," said Somkid.
"PM Prayut is interested in how to support small and medium-sized enterprises and we have already talked with the Finance Ministry about measures to support SMEs, which will be submitted for Cabinet approval once the PM agrees," said Somkid. He added that the Finance Ministry cannot solve many problems on its own and needed cooperation from other ministries run by different parties in the coalition, such as the Agriculture, Commerce and Labour ministries. The PM, as leader of the economic team, was in a good position to secure that cooperation "because coalition government needs to move together", added Somkid.
Kobsak Pootrakool, secretary of the Council of Economic Ministers and the PM's deputy secretary-general on political affairs, said the prime minister has changed the way he works under the "new normal" by listening more to his economic advisers. Previously, Prayut was merely updated by senior officials and talked with ministers.
Kobsak said the PM's economic advisers and business leaders have proposed establishing a centre for economy recovery from the Covid-19 pandemic, similar to the government's Centre for Covid-19 Situation Administration (CCSA) which has won success in containing the outbreak.
Meanwhile, Paiboon Narintarangkul, chairman of the Federation of Thai Capital market Organisations, urged the government to make Thailand the hub for regional finance and capital markets. Others have proposed legal reform in order to make doing business in Thailand much easier.
Other business leaders attending today's meeting were Kalin Sarasin, secretary-general of the Thai Chamber of Commerce. Supachai Chearavanont, chairman of the Council of Digital Economy and Society, Ghanyapad Tantipipatpong, chairmen of the Thai National Shippers' Council, Supant Mongkolsuthree, chairman of the Federation of Thai Industries and Predee Daochai, president of the Thai Bankers' Association. Prayut's economic advisers in attendance included Pailin Chuchottaworn, former deputy transport minister, Setthaput Suthiwart-Narueput, a member of the central bank's Monetary Policy Committee, and Pirapan Salirathavibhaga.
The meeting came a day after the four ministers credited with running Thailand's economy resigned from the ruling Palang Pracharat Party, though kept their seats in Cabinet. Prayut announced on Thursday he would reshuffle the Cabinet after talks with coalition parties. Prayut's economic management has failed to impress observers since Thailand's economy is currently the worst performer among ASEAN countries.
Sharp jump in Covid-19 cases in state quarantine
Jul 11. 2020
By THE NATION
There were 14 cases of Covid-19, the biggest increase over a 24-hour period in weeks, the government's Centre for Covid-19 Situation Administration (CCSA) reported on Saturday (July 11).
But Thailand has gone 47 days without a domestic case.
The new patients were returnees in state quarantine, the CCSA said. One patient had returned from Bahrain, one from the US, and 12 from Sudan.
In Thailand, the total number of cases since the outbreak, as of Saturday, was 3,216, with 58 deaths, 3,088 recoveries, and 70 undergoing treatment in hospitals.
Patients in Bangkok and Nonthaburi accounted for 1,782 of the total cases nationwide.
............................................................
Complete Finished
Saturday, July 11, 2020